Jewish Community Support for hosts 
As Ukrainian refugee guests start to arrive with their hosts, we understand that there might be a need for some practical assistance and guidance from community organisations to enable hosts to provide a warm welcome and support for their guests.  
The JLC, Board of Deputies, Mitzvah Day and JVN have launched a questionnaire to help us understand more about how many people within the Jewish community will be hosting refugee guests via the Homes for Ukraine scheme, who these hosts are, where they are based and what practical assistance the community might be able to provide.  
If you have been matched to host a refugee through the Homes for Ukraine Scheme, help us understand how we might support you by completing our survey or circulating it to anyone in the Jewish community in your network who is hosting. Click here to fill in the survey. 
Useful information for hosts: 
To understand more about your role as hosts, and the scheme more generally, please visit the Government's website here: 
https://www.gov.uk/guidance/homes-for-ukraine-sponsor-guidance 
https://www.gov.uk/guidance/homes-for-ukraine-scheme-frequently-asked-questions 
For a practical toolkit to help you prepare to host, please visit RESET's website here: 
https://resetuk.org/toolkits/homes-for-ukraine 
There is also useful information available for refugees that might help you to understand more about how they will get here and what they will need to do to settle in: 
https://www.gov.uk/guidance/move-to-the-uk-if-youre-from-ukraine#:~:text=You%20need%20permission%20to%20enter,for%20Ukraine')%20for%20free. 
https://www.gov.uk/government/publications/welcome-a-guide-for-ukrainians-arriving-in-the-uk 
The Government have asked local authorities to support refugee guests and will be funding them in order to do so. As a host, it is important that you familiarise yourself with what your local authority's responsibilities are, so you can support your guests to access the services due to them. You can understand more about the role of local authorities here: 
https://www.gov.uk/guidance/homes-for-ukraine-guidance-for-councils 
You should also notify your local authority of your guest/s' arrival. You can find out more about how your Local Authority is supporting Homes for Ukraine and how to get in contact with them via the links below: 
If your Local Authority is not listed here, please be in touch via [email protected] and we can add it.
Homes for Ukraine - Briefing for the Jewish Community Taskforce on Ukrainian Refugees - 14th March 2022 | The JLC and Board of Deputies, in partnership with World Jewish Relief have published a briefing which can be viewed here.
World Jewish Relief have paused taking on any new offers for hosting. To find out more about their work on hosting click here.
24 MARCH - LATEST REFUGEE TASKFORCE UPDATE
---
We are appalled at the Russian aggression against Ukrainian sovereignty and our prayers are with all those affected. We are proud that some of our members are supporting those impacted.
JLC members who work in the region have stepped up their efforts to support the Ukrainian people. We have set up a page listing what our community is doing to support Ukraine.
On 10 March, the Jewish Leadership Council and Board of Deputies convened a community task force with 23 Jewish organisations to discuss what might be a coordinated, appropriate, needs-led response for both the refugees themselves and the community. Out of that meeting, we agreed that the best way to help now is by donating money.
At the moment the greatest number of refugees and people affected by the conflict are in Ukraine itself or the surrounding regions. The best way to help these people is by making financial donations (donating items can often end up wasting charities' resources and can even end up in landfill). Community organisations such as World Jewish Relief have long standing partnerships in Ukraine and are best placed to channel funds appropriately.
We welcome the government's commitment to allowing Ukrainians to come to UK though a sponsorship scheme for those without family in the UK. Communities will be able offer rooms to refugees, click here to find out more from World Jewish Relief.
For those wishing to provide longer term support and looking ahead to when more Ukrainian refugees arrive in the UK, please keep following us on social media for updates on the best way to help. Try not to overwhelm small charities with questions!
We are a community who knows what it is like to be displaced and it is heart-warming to see the Jewish Communities willingness to respond and we want to thank everyone for their generous support.
World Jewish Relief
World Jewish Relief has been operational across Ukraine for almost 30 years, supporting 29 partners delivering services to 8,000 Jewish elderly, those out of work and those living in poverty. The Ukraine Crisis Appeal HERE is providing food, cash, psychological support, material assistance where we can. They are in constant contact with all partners. World Jewish Relief are ready to assist people on the move if security access allows. They are assisting those that have crossed into Moldova, Poland and Traniestria. They are also supporting those beyond the Jewish community where we can in Ukraine Government Controlled Areas close to the contact line.
JW3 & World Jewish Relief held a Ukraine Crisis Briefing on 2nd March. For analysis of the situation in Ukraine, its impact on Ukraine's Jewish community, and what the UK Jewish community can do to help Ukrainians meet their urgent humanitarian needs. To watch back click here.
BICOM
BICOM is monitoring the crisis with grave concern and focused on the ramifications for Israel. Their perspective including highlighting Israel's relations with both Ukraine and Russia and the diplomatic and economic implications of the conflict.
To receive BICOM updates by email sign up here.
To read their output so far click here.
Jewish Volunteering Network (JVN)
JVN have created a portal with opportunities to contribute, volunteer and support Ukrainian refugees.
Liberal Judaism
Liberal Judaism has published a prayer for Ukraine – by Rabbi Elli Tikvah Sarah
They have also released a statement which can be found here.
Masorti Judaism
Masorti Judaism are supporting World Jewish Relief's Appeal and Rabbi Jonathan Wittenberg published a Prayer for Ukraine.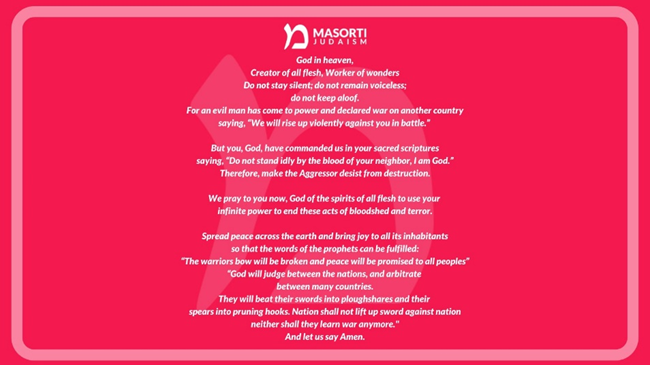 UJIA - Supporting Operation Israel Guarantees
In recent weeks UJIA has been working with their long-term partners at the Jewish Agency for Israel, monitoring plans for the rescue and absorption of Ukraine's Jewish community. Earlier this week, the Jewish Agency – the organisation responsible for ALL aliyah to Israel – launched 'Operation Israel Guarantees', for what Prime Minister Naftali Bennett has described as potentially the biggest aliyah since the early 1990s. Of an estimated Jewish population of 200,000, over 10,000 have already made contact with the Jewish Agency and 5,000 have requested immediate immigration. It is expected this number to be in the tens of thousands very soon and anticipate a further wave from Russia. Find out more on UJIA's work on this here.
Union of Jewish Students
UJS have also built a portal for Jewish students with links to organisations detailing how people in the UK can help support refugees fleeing Ukraine, as well as supporting those that can't. Click here to view.
United Synagogue
"Almighty God, strengthen the hands of those who pursue peace, not war." The Chief Rabbi has composed a brief prayer for the people of Ukraine which has been distributed to synagogues around the country.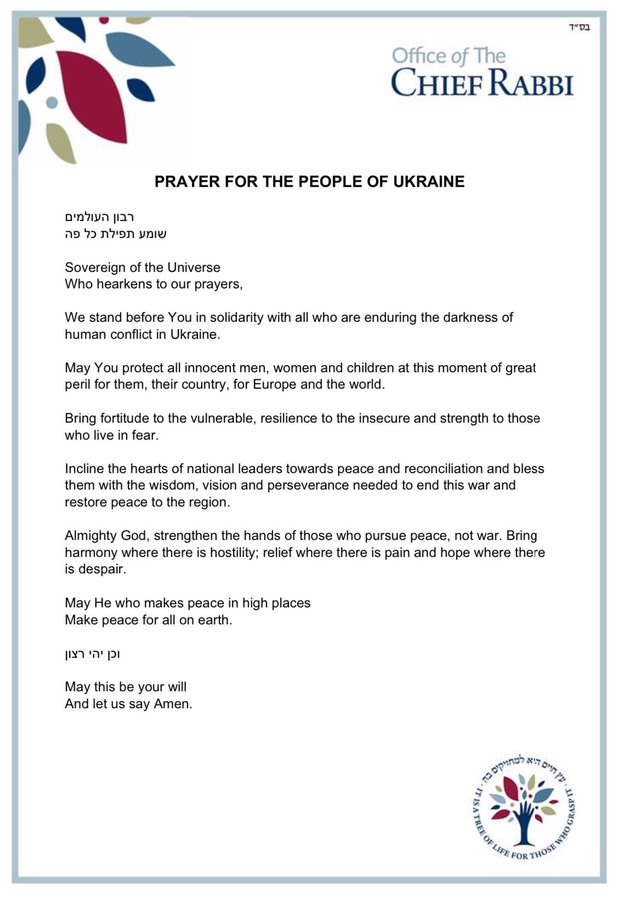 The United Synagogue hosted a Ukraine Crisis briefing with World Jewish Relief which can be viewed here.
University Jewish Chaplaincy
University Jewish Chaplaincy are supporting Jewish students affected by the Ukraine crisis and are offering support.
WIZO UK
There are currently 68 students from Ukraine living and studying in WIZO youth villages, most of whom came to Israel without their families. These young girls and boys are naturally experiencing enormous stress, deeply worried about their loved ones, friends and country. WIZO is providing them and the children around them with every type of emotional, social and material support. WIZOUK would like to help those affected by the crisis in Ukraine and for the next two months will donate 50% of all proceeds from our WIZO UK ebay shop to the humanitarian needs of those in Ukraine.
WIZO UK have released this statement.
Volunteers are urgently needed to help in a pop-up shop in Cricklewood (27 March -19 April).  Proceeds will go towards specialist emotional and psychological support for Ukrainian & Russian students many of whom came to Israel alone and are deeply distressed about the family they have left behind.   You can volunteer for up to 3-hour shifts or anytime to suit you. Free parking is available in the Morrison's close by.  If you can help, please urgently message Tal on [email protected]
Zionist Federation
The Zionist Federation have joined their partners around Europe in showing solidarity with the Ukrainian people.